WELCOME NEW INTERNATIONAL STUDENTS
The majority of new international students get here by bus from O'Hare Airport, or they
fly into Willard Airport. Most are weary from traveling long distances. A ride to their
apartment is greatly appreciated! You can be the first person they meet here! Volunteers
are also needed to help new arrivals get familiarized with CU and find needed items at
local stores. Most students have furnished apartments, but some do not. Volunteers who
have access to a pickup truck and who can haul basic used furniture items are greatly
appreciated. These initial gestures of kindness can result in quickly forming friendships!
Helping new students as a summary:
Providing transportation to student's new apartments
Providing temporary housing
Providing transportation to get basic household supplies and groceries
Helping donate or move gently-used furniture
[/div]
Volunteering at IFI Welcome Events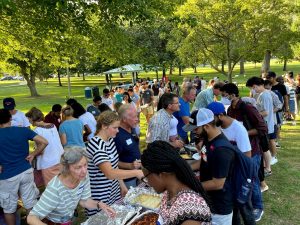 At the start of the fall semester, IFI hosts a large welcoming picnic at a park near
campus. This is for new and existing international students who have indicated some
interest in IFI's activities. We need help with set-up, providing food, serving food, helping
with games, and simply visiting with some of the students. They are delighted with the
friendship that is extended to them at these picnics! An indoor welcoming event in
January sometimes occurs for incoming spring semester students as well. Helping with
welcoming events is also a great way to get to know other believers from our community
who share a desire to reach out internationally.
OTHER WAYS TO GET INVOLVED
Some other ways you can serve students. Contact Bill for more information.